Department of Cardiology
Shaheed Suhrawardy Medical College  Hospital
Sher-e-Bangla Nagar, Dhaka-1207
Faculty members Group Photo (Teachers):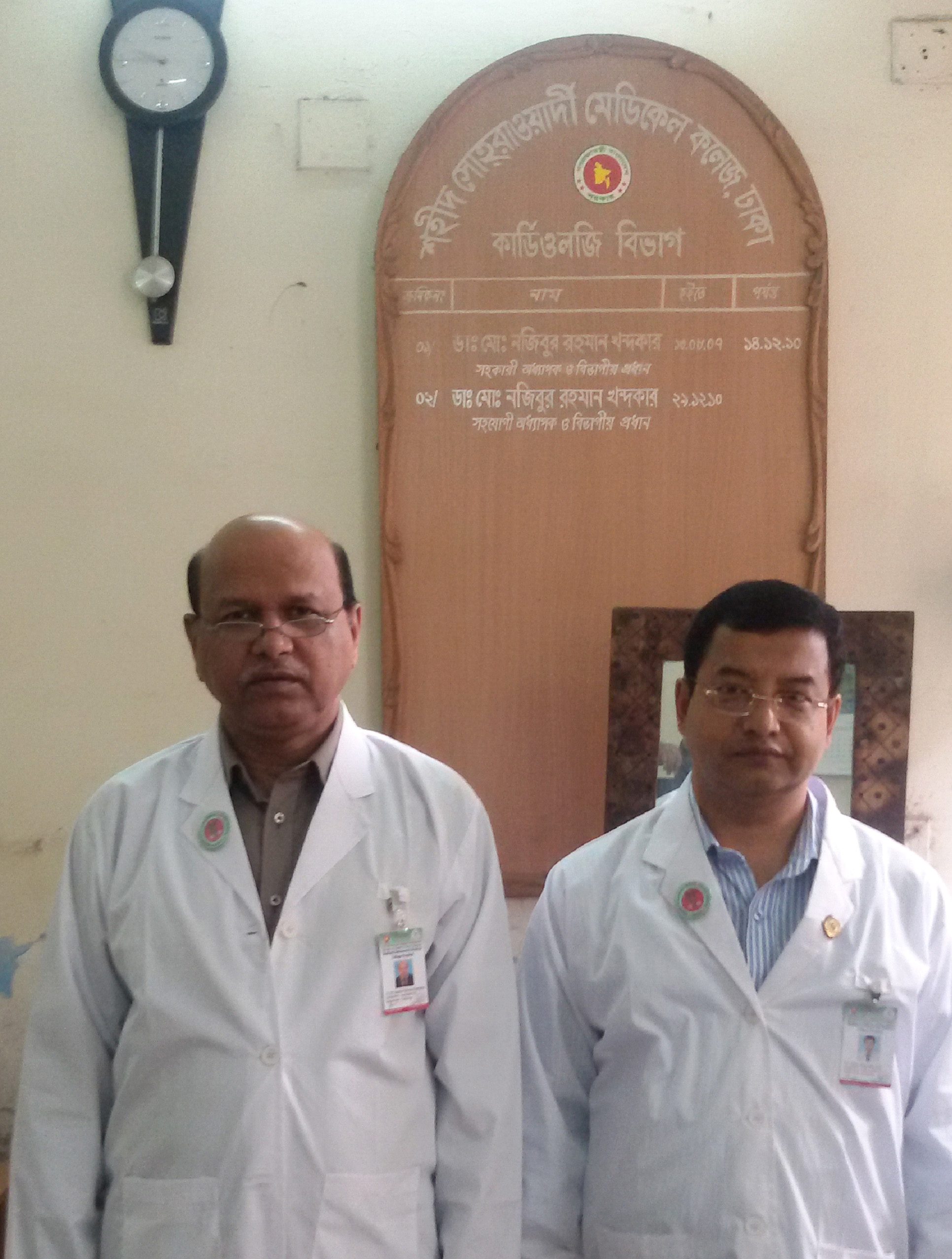 List of teachers: 
A) Dr Nazibur Rahman Khandaker
Professor, Cardiology
Flat# E/3 H-71, Road- 11/A , Dhanmondi, Dhaka.
Ph: 01819212145
B) Dr Udoy Shankor Roy
Assistant Professor of Cardiology
Flat# A/7, Anwar landmark
17/18 , Hussain Housing Society
Shaymoli, Dhaka
PH: 01819128105
Department Overview
The Department of cardiology of Shaheed Suhrawardy medical college is one of the most esteemed, comprehensive and interdisciplinary center serving the needs of persons with  cardiovascular diseases.
Organogram
Designation                                                                     Number
Associate Professor                                                                01
Assistant Professor                                                                 01
Echo technician                                                                       01
Echo room manager                                                                01
Ecg  technician                                                                         02
MLSS                                                                                         01
Staff pattern of the department of Cardiology:
Since establishment, this department provides  outdoor services regularly from 8 am to 2:30 pm in a comprehensive manner with the following staff-
Name of the post
Number
Name of the staff
Professor
01
Dr. Md. Nazibur Rahman Khandaker
Assistant Professor
01
Dr. Uday Shankar Roy
Echo Technician
01
Sultana Razia Rupa
Ecg   Technician
02
Md . Aminul Haque
Md. Kamruzzaman
Echo Room manager
01
Md. Saidul Islam
MLSS
01
Md. Sabuz Hussain
Daily Activities in the Department
Cardiology  Department, Shaheed Suhrawardy Medical College & Hospital provides services to cardiology patients as angina pectoris,  unstable angina, vulvular heart disease, congenital heart disease .This Department tries to collaborate with other departments to provide comprehensive treatment facilities for the patients.  Our daily activities are as follows:
Outdoor patients are seen by the doctors including specialists regularly except holy day.
Referred patients from all other departments and special academic cases are seen from 8.00 am to 2.30 pm.
ECG activities
Echocardiography activities
To attend patients call in wards and ICU
To attend seminar and symposium in college and hospital
Outdoor patients profile of Cardiology Department, ShSMCH in 2015
The total number of outdoor patients attending in the Department of Cardiology have been increasing day by day. Most of the patients coming to this department from different areas of Dhaka city and also few from other parts of the country. Moreover, referred patients are also seen from departments of ShSMCH especially Medicine,Surgery, Neurology, Orthopedics, Burn & Plastic Surgery, Paediatrics and Gynae department.
A) Outdoor patient data: 09345 in 2015
B) Echocardiography patient: 3513 in 2015
C) ECG patients : 10134 in 2015
Facilities available in the department:
A) ECG- 3 channel ecg machine in outdoor time.
B) Echocardiography – 2D, M Mode, Doppler and Colour Doppler echocardiography available in Outdoor time.
Future plans:
We have planned to open in future:
a) CCU ward
b) Cardiology ward
c) Exercise tolerance test department
d) Cardiac surgery department
e) Vascular surgery ward
f) Coronary angiography Department
g) Holter test department