Department of Anesthesiology
Shaheed Suhrawardy Medical College 
Sher-E-Bangla Nagar, Dhaka-1207.
Faculty members Group Photo (Teachers):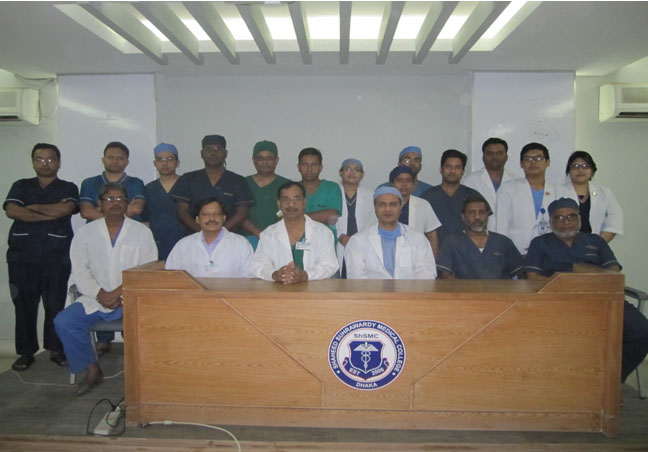 Department Overview
The Department of Anaesthesiology, Intensive care and Pain Medicine Shaheed Suhrawardy medical college is one of the most esteemed, comprehensive and interdisciplinary center serving the needs of persons with diseases and disorders of the musculoskeletal and nervous system, and many other conditions that affect function and mobility. Our highly-trained physicians and specialists have innovative technologies and embraced the latest treatment techniques since we first opened our doors. We treat patients of all ages on both an inpatient and outpatient basis—from newborns to geriatrics. We also coordinate care within an interdisciplinary team that includes Physical and occupational therapists, rehabilitation nurses, social workers and speech/language pathologists. We also work closely with numerous other specialists throughout the Shaheed Suhrawardy Medical College, including surgeons, radiologists, pediatricians and primary care physicians. Our department provides teaching for undergraduate and post-graduate education.
Organogram
Designation                                                                     Number
Professor                                                                                 01
Associate Professor                                                               01
Assistant Professor                                                               02
Chief consultant                                                                     01
Junior Consultant                                                                  01
Assistant Registrar                                                                01
Anesthesiologist                                                                    14
MLSS                                                                                       01
Staff pattern of the department
of
Anaesthesiology, Intensive care and Pain Medicine
Since establishment, this department provides indoor and outdoor services regularly from 8 am to 2:30 pm in a comprehensive manner with the following staff-
List of  Stuff
Name of the post
Number
Name of the staff
Professor
01
Dr. A B M Maksudul Alam
Associate Professor
01
Dr. Md. Lutfor Rahman
Assistant Professor
01
Dr. Md. Shahidul Islam
Assistant registrar
01
Dr. Md. Rayhan Reza Rony
Anesthesiologist
13
Dr. Md. Mizan ullah

Dr. Asma Afroz

Dr. Atidh Mohammad Mollah

Dr. Mahbube Mostafa Rony

Dr. Dewan Anisur Rahman

Dr. Sultana Nishat Zaman

Dr. Md Robiul Islam

Dr. Anirudhraw Bhattacharjee

Dr. Sharin Farah

Dr. Kamruzzaman Bhuiyan

Dr. Mofizul Haque Shohag

Dr. Syeda Sharmin Sultana

Dr. Chandra Shekhar Karmokar
List of Teaching Stuff
| | | |
| --- | --- | --- |
| Name of the post | Number | Name of the staff |
| Professor | 01 | Dr. A B M Maksudul Alam |
| Associate Professor | 01 | Dr. Md. Lutfor Rahman |
| Assistant Professor | 01 | Dr. Md. Shahidul Islam |
| Assistant registrar | 01 | Dr. Md. Rayhan Reza Rony |
| | | |
Daily Activities in the Department
Providing pre anesthetic checkup
Providing anesthesia for all surgical discipline in this hospital
Providing post anesthetic care
Providing critical care in ten bedded ICU
Academic Activities:
a) Undergraduate teaching:
MBBS Students:
Total group of 3rd year student placement in Department of Anaesthesiology, Intensive care and Pain Medicine as a ward/OT placement in 2015-
Batch – ShS 06 & 07
Average tutorial classes -06 (among 07 days placement)
Average attendance – 90%
Average attendance to OT placement examination – 95%
Percentage of passing – 98%
Lecture classes for 4th year & 5th year MBBS students
Intern Doctors:
Teaching of intern doctors placed in this department
b) Postgraduate teaching:
FCPS part-II students
Lecture classes
Case Presentation/Assessment
Evaluation
Dissertation                                               
Activities of operation
Anaesthesia given in General surgery during 2015:
Month
Spinal

Anaesthesia

General

Anaesthesia

Local

Anaesthesia

Epidural

Anaesthesia

Brachial

Block

January
116
72
84
00
00
February
140
71
105
00
00
March
151
80
91
00
00
April
123
47
103
00
01
May
119
82
88
00
00
June
147
88
14
00
00
July
110
57
138
00
00
August
172
77
117
00
00
September
116
61
225
01
01
October
142
72
129
00
01
November
122
89
128
00
00
December
128
77
101
00
00
Total
1586
873
1323
01
03
Anaesthesia given in OMS during 2015:
Month
Spinal Anaesthesia
General

Anaesthesia

Local

Anaesthesia

Epidural

Anaesthesia

Brachial

Block

January
10
24
February
12
36
March
14
26
April
05
41
May
06
16
June
18
32
July
04
14
August
15
37
September
10
38
October
08
31
November
13
31
December
08
36
Total
 
123
359
 
 
Anaesthesia given in Urology during 2015:
Month
Spinal Anaesthesia
General

Anaesthesia

Local

Anaesthesia

Epidural

Anaesthesia

Brachial

Block

January
16
06
11
February
13
04
11
March
11
08
10
April
09
07
18
May
14
06
12
June
16
01
13
July
05
04
06
August
13
05
11
September
18
05
15
October
13
02
08
November
18
04
16
December
19
06
18
Total
165
58
149
Anaesthesia given in ENT during 2015:
Month
Spinal Anaesthesia
General

Anaesthesia

Local

Anaesthesia

Epidural

Anaesthesia

Brachial

Block

January
50
28
February
61
37
March
60
52
April
67
33
May
61
31
June
65
18
July
50
26
August
61
41
September
50
36
October
56
42
November
56
60
December
65
34
Total
 
719
438
 
 
Anaesthesia given in Pediatric during 2015:
Month
Spinal Anaesthesia
General

Anaesthesia

Local

Anaesthesia

Epidural

Anaesthesia

Brachial

Block

January
16
February
19
March
21
April
19
May
23
June
22
July
18
August
13
September
18
October
14
November
25
December
13
Total
 
221
 
 
 
Anaesthesia given in Neurosurgery during 2015:
Month
Spinal Anaesthesia
General

Anaesthesia

Local

Anaesthesia

Epidural

Anaesthesia

Brachial

Block

January
February
March
April
May
June
July
August
September
05
October
November
03
December
07
Total
 
15
 
 
 
Anaesthesia given in orthopedic surgery during 2015:
Month
Spinal Anaesthesia
General

Anaesthesia

Local

Anaesthesia

Epidural

Anaesthesia

Brachial

Block

January
21
13
01
February
12
07
02
March
23
03
02
April
20
05
06
May
15
07
05
June
19
03
06
July
12
05
01
August
21
06
02
September
13
01
04
October
15
02
03
November
13
03
04
December
12
03
03
Total
196
58
 
 
39
Anaesthesia given in burn & plastic during 2015:
Month
Spinal Anaesthesia
General

Anaesthesia

Local

Anaesthesia

Epidural

Anaesthesia

Brachial

Block

January
05
08
18
February
06
07
22
March
05
07
22
April
06
16
25
May
03
05
29
June
04
12
14
July
09
09
15
August
09
17
36
September
11
09
39
01
October
14
10
29
02
November
15
11
32
December
37
31
39
Total
121
142
320
 
03
Anaesthesia given in gynae during 2015:
Month
Spinal Anaesthesia
General

Anaesthesia

Local

Anaesthesia

Epidural

Anaesthesia

Brachial

Block

January
57
03
February
74
02
March
91
02
April
62
07
May
81
04
June
39
06
July
29
02
August
82
08
September
72
08
07
October
85
09
06
November
96
09
08
December
61
07
Total
768
67
21
 
 
Anaesthesia given in obs (emergency) during 2015:
Month
Spinal Anaesthesia
General

Anaesthesia

Local

Anaesthesia

Epidural

Anaesthesia

Brachial

Block

January
185
06
20
February
154
05
17
March
161
03
22
April
170
07
27
May
166
07
15
June
82
04
17
July
195
09
21
August
189
06
14
September
168
07
19
October
180
11
13
November
160
09
15
December
174
05
23
Total
1984
79
223